In order to make salary changes or updates to an employee, you will navigate to Employee Management > Employee Pay and Salary. The Employee Salary screen allows users to view current and past salary information, calculate an employee's rate increase based on a percentage and add future rate changes that will take effect automatically once the pay period has been reached.
The Add New option allows users to add a new salary record. This should always be used if an employee has a rate change/increase or if the user would like to add historical records. When adding a new record, the existing salary record will be available to view at any time. This will create a history of changes being made to an employee's salary.
Select

Current Change

for salary changes with the next pay period.

Select

Future Change

if the salary change is in a future pay period. Adding the effective date will activate the change with the future pay period.

Select

Historical Change

if adding records for past salary changes.
You are able to add a Change Reason, change a Pay Type, Pay Group, and Frequency, based on those available on your company.
Add either a Percent Increase, Annual Salary, Per Pay Salary, or an Hourly Rate. Only add one of the categories and the system will calculate the others.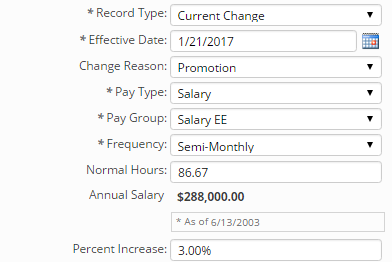 The Edit function should only be used if a field is incorrect and you need to update it properly. Always use Add New when adding a new salary record instead of editing the current record. If the current record is edited, the Employee Salary screen will no longer display the information that previously existed.
Reporting
Go to Reporting > Client Reports and search by "Salary." Two reports pertaining to Salary will appear.

Select the "Employee Salary History" report to review all salary records within the date range.

Select the "Employee Salary Listing" to view salary or hourly rate for a pay period.
Other reports that will reflect salary/hourly rate:
"Payroll Register"

"Employee Profile"

"Employee Comparison Ratio"